High Definition Video Transmission
StrandVision LLC, a leading internet based digital signage company, is introducing a fully digital, high-definition (HD) personal computer-to-television adapter for use with its digital signage offering and for many other applications. Called PC-2-TV.net, the HD solution includes an adapter (PCA) at the personal computer that is paired with a receiving adapter (TVA) at the television monitor; the adapters are connected via a standard CAT5 or CAT6 network cable, either directly or through standard network appliances.
PC-2-TV.net simplifies wiring for corporate digital signage networks, enabling users to easily and inexpensively extend digital signage content to multiple displays. It works over corporate Local Area Networks. A dedicated network is recommended for streaming digital signage video content. This type of set-up supports up to four different video streams and a virtually unlimited number of receivers. PC-2-TV.net simultaneously displays the same video content that is shown on the computer monitor on the television monitor(s).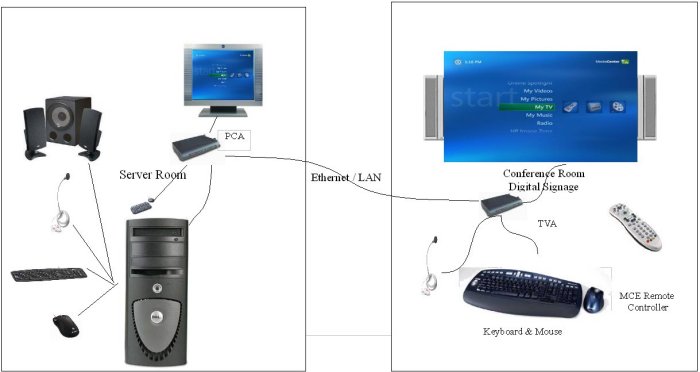 Beyond digital signage
In addition to one-way HD video transmission, the adapters support two-way communications. The PC-2-TV.net TVA includes standard mouse and keyboard connections, as well as audio in and out ports providing full remote control of the host personal computer.
For instance, a presenter in a meeting room could remotely control a Microsoft PowerPoint presentation, select a video clip, or call up streaming video from the Web to be shown on an LCD or plasma display in the room. An administrator of a digital signage system could control the display from any TVA-equipped location to adjust the digital signage content or look. Transmitter inputs can also be disabled to eliminate access and make the system more secure.
StrandVision provides this product as a set with one PCA transmitter and one TVA receiver device for $299.99 plus S/H. Additional TVA receiver units are available for $179.99 plus S/H.
Latest Firmware:
(PCA Transmitter / Encoder- md5 1a25a2315b66b62380caaf2d37d1f56c)
(TVA Receiver / Decoder - md5 b333036c54bbdeffc060ea45710412a3)